Operation PAR-Outpatient Detoxification
Addiction Treatment Address
Address:

6150 150th Ave North

City:

State:

Zip Code:

33760
Overview
Outpatient Drug Detoxification

Programs operated under the supervision of trained physicians, nurses or counselors on an outpatient basis in a medical clinic or other similar setting that provide assistance and support including medical treatment and possibly prescription drugs to help individuals who are physically dependent on drugs other than opiates (e.g., cocaine, amphetamines, benzodiazepines) during the withdrawal period.

Outpatient Detoxification services provide a physical health screening, psychological assessment and outpatient detoxification services for individuals dependent on drugs or alcohol who meet admission criteria and who have been determined to not be in need of inpatient medical detoxification. The length of stay for this program ranges between ten and 14 days. Individuals undergoing outpatient detoxification services may participate in Room and Board with Supervision services if the client is homeless or is living in an environment not conducive to recovery.
Hours 9:00a - 1:00p, 7 days per week
Program Fees Call for details.
Languages English
Eligibility At least 18 years old. Voluntarily agrees to enter treatment. Agrees to participate in treatment activities, aftercare, planning, and referrals. Have been determined to not be in need of inpatient medical detoxification. Room and Board available for individuals who are homeless or whose living situation is not supportive of recovery.
Intake Process Call for details.


Operation PAR-Outpatient Detoxification Photos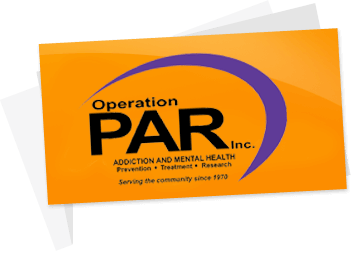 Payment Assistance Available
Non Profit Organization;
Treatment Facility Website
Contact This Substance Abuse Treatment Facility
Phone Number Main:
Treatment Contact Address
Add or Fix the Facility Information
FreeCenters.org is a third-party resource for consumers seeking free or affordable addiction treatment. You can tell us via [email protected] about incorrect business details, wrong road names, incorrect phone numbers, or other data errors on this page.
Is this treatment center really free?
Most of the listings on this website are free; however, we decided it would also be helpful for our visitors to see sliding scale treatment centers and low cost rehab centers for low income persons.
Free Addiction Rehab Centers Near Operation PAR-Outpatient Detoxification
User Reviews
( Add Your Review )
Please note: Anyone attempting to manipulate or spam our system(ranking, reviews and others) or the providers' own listing pages risks having all content removed.