Broward Addiction Recovery Center (BARC) - Detox
Addiction Treatment Address
Address:

1000 SW 2nd St.

City:

State:

Zip Code:

33312
Overview
McIntosh Trail Community Service Board offers services for individuals with developmental disabilities and their families within a seven county area. Services are authorized through the regional board and are based on the service descriptions identified through the NOW and COMP waivers. Individualized budgets and service plans are developed with the service coordinator, the individual and family and may include an array of services.
Broward Addiction Recovery Center (BARC) offers comprehensive services for those individuals ages 18 and over who are dealing with substance abuse and also co-occurring disorders. They have professional staff is dedicated to helping clients attain a healthy recovery.
The treatment focus on abstinence, and improving life skills, it also focus on interpersonal relationships and involvement in community support groups. They also provide effective intervention in a safe and caring environment. They utilize individual, family and group therpay. For those who need others services, they also collaborate with health providers and are able to make referral to ensure the individuals receive the right services.
Mission
Broward Addiction Recovery Center (BARC) is dedicated to serve our community:
1. Strengthening our social safety net;
2. Providing integrated substance abuse and mental health care services;
3. Promoting successful recovery and reintegration back into the community
Broward Addiction Recovery Center (BARC) - Detox Photos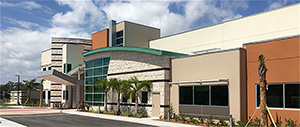 Payment Assistance Available
Non Profit Organization; Payment Assistance, Self-pay Options
Primary Focus of Provider
Substance Abuse:
Substance rehabs focus on helping individuals recover from substance abuse, including alcohol and drug addiction (both illegal and prescription drugs). They often include the opportunity to engage in both individual as well as group therapy.
Alcoholism:
The goal of treatment for alcoholism is abstinence. Those with poor social support, poor motivation, or psychiatric disorders tend to relapse within a few years of treatment. For these people, success is measured by longer periods of abstinence, reduced use of alcohol, better health, and improved social functioning. Recovery and Maintenance are usually based on 12 step programs and AA meetings.
Opioid Addiction:
Opioid rehabs specialize in supporting those recovering from opioid addiction. They treat those suffering from addiction to illegal opioids like heroin, as well as prescription drugs like oxycodone. These centers typically combine both physical as well as mental and emotional support to help stop addiction. Physical support often includes medical detox and subsequent medical support (including medication), and mental support includes in-depth therapy to address the underlying causes of addiction.
Treatment Approaches
Individual Therapy:
In individual therapy, a patient meets one-on-one with a trained psychologist or counselor. Therapy is a pivotal part of effective substance abuse treatment, as it often covers root causes of addiction, including challenges faced by the patient in their social, family, and work/school life.
Life Skills:
Life skills trainings involve all the skills a person must have in order to function successfully in the world. These include time management, career guidance, money management, and effective communication. Truly successful addiction recovery is based on the ability to not only live substance-free, but to thrive. Life skills teaches the practical necessities of functioning in society, which sets clients up for success in life, and therefore sobriety.
Group Therapy:
Group therapy is any therapeutic work that happens in a group (not one-on-one). There are a number of different group therapy modalities, including support groups, experiential therapy, psycho-education, and more. Group therapy involves treatment as well as processing interaction between group members.
Family Therapy:
Research clearly demonstrates that recovery is far more successful and sustainable when loved ones like family members participate in rehab and substance abuse treatment. Genetic factors may be at play when it comes to drug and alcohol addiction, as well as mental health issues. Family dynamics often play a critical role in addiction triggers, and if properly educated, family members can be a strong source of support when it comes to rehabilitation.
Facility Operation
Private Setting
Age Groups Accepted
Adult Programs, Young Adult Programs
Payment/Financial/Insurance Details
Medicare, Private Insurance, Medicaid
License/Certification/Accreditation
Joint Commission:The Joint Commission, formerly known as JCAHO, is a nonprofit organization that accredits rehab organizations and programs. Founded in 1951, the Joint Commision's mission is to improve the quality of patient care and demonstrating the quality of patient care.
Type of Care
Individualized Treatment:
Certain drug and alcohol rehabs have standard treatment regimes they expect all patients to follow. Others offer individualized treatment, meaning they tailor treatment to a person's specific background and needs. For example, a rehab facility may adjust a treatment program to take into account the type of drug or addiction from which the person suffers, their age, medical condition(s), religious beliefs, or lifestyle.
Holistic Treatment:
Rather than focusing solely on addiction, holistic treatment facilities treat patients in terms of their whole being. Holistic treatment is about more than just addiction and sobriety a?? it addresses the persona??s life in its entirety, including career, physical, familial, and spiritual aspects.
Medically Assisted Detox:
Drug and alcohol addiction often takes a heavy toll on one's body. Over time, a physical dependence can develop, meaning the body physiologically needs the substance to function. Detox is the process of removing drugs and/or alcohol from the body, a process that can be lethal if mismanaged. Medical detox is done by licensed medical professionals who monitor vital signs and keep you safe, healthy, and as comfortable as possible as you go through detox and withdrawal. Detoxification process include medical triage, assessment and stabilization, counseling, support and education.
Partial Hospitalization Program:
A partial hospitalization program (PHP) is a short-term form of intensive rehab, usually for those with acute symptoms that are hard to manage but don't require 24-hour care. Their day treatment or PHP is for those individuals who need more intensive treatment than outpatient , but do not require detoxification or inpatient treatment. The program is a perfect option for those who want a "step down" from residential.
Gender Accepted
Programs for Men, Programs for Women
Treatment Facility Website
Contact This Substance Abuse Treatment Facility
Phone Number Main: 954-357-4851
Treatment Contact Address
Add or Fix the Facility Information
FreeCenters.org is a third-party resource for consumers seeking free or affordable addiction treatment. You can tell us via [email protected] about incorrect business details, wrong road names, incorrect phone numbers, or other data errors on this page.
Is this treatment center really free?
Most of the listings on this website are free; however, we decided it would also be helpful for our visitors to see sliding scale treatment centers and low cost rehab centers for low income persons.
Free Addiction Rehab Centers Near Broward Addiction Recovery Center (BARC) - Detox
User Reviews
( Add Your Review )
Please note: Anyone attempting to manipulate or spam our system(ranking, reviews and others) or the providers' own listing pages risks having all content removed.