New Covenant Fellowship Jacob House
Addiction Treatment Address
Address:

813 East Mulberry Street

City:

State:

Zip Code:

27533
Overview
Jacob House Men/'s School of Discipleship
The program is for men seeking life change! Whether you are a man who has struggled with bondage to drugs and alcohol all your life or you are a man who has begun to serve the Lord and wants an atmosphere to launch headlong into Jesus, the Jacob House is the answer to your cry.

Victory in the SunThe program is an opportunity for men to establish a firm foundation under their feet to stand in this world. Men in chemical dependency do not need a twelve step program... we do not offer that. The hopeless drug addict doesn/'t need someone who understands their problem, but the Physician who can fix their problem.

Every new Christian should be immersed in real experiences with the living Christ, and the program is an atmosphere of intensive training to fill you with these life-changing experiences. If you are a newly saved man looking to follow hard after Jesus, or a man who once followed but have left your first love, the Jacob House has been established for you to grow closer to Christ and dig deep to a rock-solid foundation of salvation.

Christian college learning is no match compared to substance gained through trials and testings for the the man who is serious about knowing God.

Welcome to the Jacob House and Zadok House Christian Discipleship Program for men. We would like to take you on a tour of the ministry to discover who the ministry is for, what a student can expect when coming to the program and what we aim to accomplish in men/'s lives by the grace of God.

jacob houseWe absolutely believe that God wants to bring every man, woman, boy and girl into a school of discipleship, and that there is no mountain of sin in a person/'s life that God cannot conquer. The greatest men who have walked the face of the earth were true disciples!

Through the years we have seen God use the program as a weapon to fight the destructive powers of drug abuse in men/'s lives, but don/'t confuse the program as a drug rehab... it/'s not that at all. Men have come in with drug problems, but have found their time with us to be so much more than dropping a few lousy habits. Your life can be transformed by the power of the living Jesus!

zadok houseThis program is simply an environment to promote the work that must be done in a man/'s life to follow Jesus and become /"more than conquerors/"??. There is no life on the face of this earth that is too far gone, or /"too bad/"?? for Jesus to make righteous. The only requirement is the same as its always been: having a desperate need and believing that Jesus can meet that need, and He/'s never turned one away yet. We have people who have dedicated their lives to see you grow strong in Christ.
New Covenant Fellowship Jacob House Photos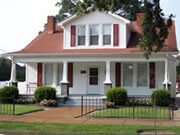 Payment Assistance Available
Non Profit Organization;
Treatment Facility Website
Contact This Substance Abuse Treatment Facility
Phone Number Main: (919) 735-8094
Treatment Contact Address
Add or Fix the Facility Information
FreeCenters.org is a third-party resource for consumers seeking free or affordable addiction treatment. You can tell us via [email protected] about incorrect business details, wrong road names, incorrect phone numbers, or other data errors on this page.
Is this treatment center really free?
Most of the listings on this website are free; however, we decided it would also be helpful for our visitors to see sliding scale treatment centers and low cost rehab centers for low income persons.
Free Addiction Rehab Centers Near New Covenant Fellowship Jacob House
User Reviews
( Add Your Review )
Please note: Anyone attempting to manipulate or spam our system(ranking, reviews and others) or the providers' own listing pages risks having all content removed.